BIOMATT™ E is a VOC-free, effective liquid matting aid for various applications where gloss is undesirable, but transparency is a must. It greatly improves the orientation of matting agents, coating homogeneity and substrate wetting.
Proprietary blend of multi-alcohols, polymers and modified silicates.
Benefits
Homogeneous orientation of matting agents
Uniform levelling of the coating film
Reduces cloudiness
Increased matting effect
Increased transparency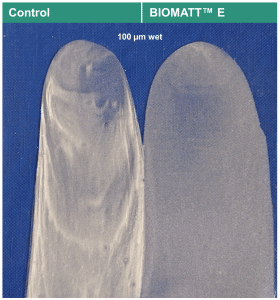 SOL™ 30 is a nanosized, solvent-free pure acrylic dispersion with excellent penetration properties in (semi-)porous substrates. Due to its very fine particle size, SOL™ 30 shows excellent penetration in dusting cement walls, plaster and gypsum boards.
Co-polymer dispersion based on (meth)acrylic monomers and esters.
Benefits
Low surfactant content (low foaming)
Excellent mechanical stability
Very good alkaline resistance
Very good penetration in (semi-)porous substrates
Excellent penetration & good waterproofing
Excellent sealing of concrete
Anti-dusting properties
Nanotechnology – small particle size (<35 nm)
Applications
Plaster & gypsum board
Cementitious walls
Concrete
Subscribe to us to always stay in touch with us and get the latest news
about our company and all of our activities!