BIOMATT™ E is a VOC-free, effective liquid matting aid for various applications where gloss is undesirable, but transparency is a must. It greatly improves the orientation of matting agents, coating homogeneity and substrate wetting.
Proprietary blend of multi-alcohols, polymers and modified silicates.
Benefits
Homogeneous orientation of matting agents
Uniform levelling of the coating film
Reduces cloudiness
Increased matting effect
Increased transparency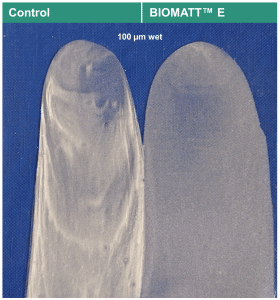 Subscribe to us to always stay in touch with us and get the latest news
about our company and all of our activities!